School & College Bus Time Tables
School Bus Runs
We operate the largest out of catchment bus services in Leicestershire.
All of our drivers are uniformed and CRB/DBS badged to the enhanced level by Leicestershire County Council for your peace of mind.
Our vehicles are maintained to the highest levels in our well equipped workshop and on site MOT test centre.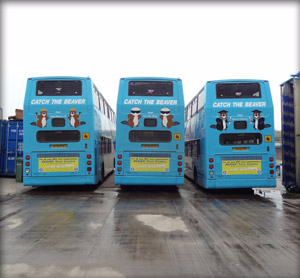 Sign up here..
Our price list is available below so you can check the cost of travel from your area – School Bus Forms (2).
A ticket can be purchased in full directly from the reservation form below and payment made via worldpay. We do offer a monthly payment option for customers signed up for the academic year early, this runs from 1st June to 1st March. We will not be offering this option again until 2020-2021.
You can download all of our school bus timetables to the right of the page.
Please be aware that we are a Commercial Operator and operate double decker service buses that do not have seatbelts. We may legally carry standing passengers and your ticket purchase with Beaver Bus Ltd, reserves a place on the bus not a seat. 
School Bus Forms
Adobe Acrobat is required to view these printable PDF's.
Beaver Bus Reservation Form
Please complete the online Reservation Form below with all your details. (* Denotes required field).
Strictly no snap chat filters, hats or sunglasses will be accepted in the photo submissions. The photo must be close to the face with a plain light coloured background (similar to a passport photo).